Every time we get a contract for the provision of construction services, we always look to put a smile on the face of our clients. Regardless of your project, we are certain you will receive expert and attentive services every step of the way. 
From conception to completion, Saja Construction Company overviews every detail of the entire construction process. our entire team of estimators, designers, project managers and experienced executives make our clients' needs a priority.
We are committed to bringing the best construction quality with the most economic prices to suit the pocket of all our clients! The scope of assignments we are able to undertake under construction include the following:
​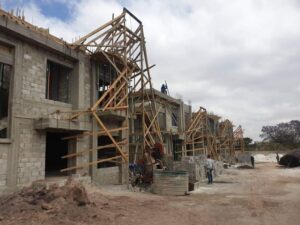 Building construction
We build warehouses, institutional and commercial buildings, residential buildings, commercial office blocks, modern markets, halls and steel structures.
Rehabilitation works:
We renovate and refurbish residential houses, institutional and commercial buildings. We can also redesign the interior and exterior of houses and office buildings.
Steel structures:

We fabricate and install steel and aluminium structures that include metal frames, door frames, office partitions, sliding gates and can handle all concrete related works.

We own comprehensive range of construction equipment and have the necessary resources and skilled man power readily available for execution of any construction assignment. Do you need our construction services? Contact and  engage us to handle your next project!